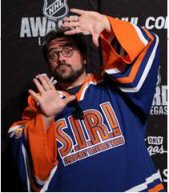 Just over a year ago, we shared with you the unofficial backyard rinkbuilder's anthem, a killer tune by Backyard Rinc owner Greg Michalski. Since then 'The Backyard Rinc Song' has taken off, even going so far as to be included in Nicerink's installation manual DVDs. But Michalski isn't done yet. A growing force in the backyard rinkbuilding world, his Backyard Rinc company is teaming up with famed producer, director, and hockey nut Kevin Smith on a new contest. This contest, announced two weeks ago on Smith's weekly podcast, will give one lucky winner a FREE 20'x40′ Nicerink backyard rink kit. This kit will include:
-25'x45′ liner
-34 Nicerink brackets
-120 linear feet of yellow bumper caps
-Install DVD
-And a handful of other accessories
To enter, all you need to do is visit Backyard Rinc at http://www.backyardrinc.com and enter your information on the left hand side. The winner will be announced on the Halloween edition of Smith's Smodcast.
So how did a rinkbuilder from Chicago link up with the man behind Jay and Silent Bob? Turns out they had some mutual inspiration in the name of Warren Zevon. Michalski heard Zevon's hockey ballad 'Hit Somebody' and it prompted him to write 'The Backyard Rinc Song'. Smith heard the same tune and conceptualized a two-part hockey drama-comedy under the same name. Hit Somebody: Home is slated to launch in 2012 while Hit Somebody: Away is scheduled for release in 2013. Mitch Albom, author of Tuesdays With Morrie, wrote the song for Zevon and is helping Smith with both films.
Michalski contacted Smith with the idea for the contest, directing Smith to a video slideshow of 'The Backyard Rinc Song'. Smith was on board immediately, going so far as to say the song was now on his mp3 player. He announced the contest on his Smodcast on October 6th, calling Michalski the Wayne Gretzky of backyard rinkbuilders.
Who knows what might happen to the winner of the backyard rink kit. They may toil around on it for a few years before throwing it on Craigslist. They might use it as a backyard hangout or an excuse for winter BBQs. Or maybe, just maybe, this rink will spawn the next great NHL superstar. Think it can't happen? I refer you to one of our first posts, a profile of Bob DeGemmis. Born into a family not familiar with the sport, Bob's dad won a contest that included a visit from Gordie Howe, a stick, and six skating lessons. Those six skating lessons turned into a career that peaked with three years as the starter for Villanova University. Sure, it's not the NHL, and Bob will be the first to tell you that. But let's not lose sight of the fact that these giveaways tend to find the people who need, and who will benefit from them, the most.