I'm willing to bet my first pond hockey experience mimics many others: I sent a bunch of emails to hockey friends to determine interest, assembled a team, showed up to the tourney excited to play…and subsequently got blown off the ice by a much more polished team. These guys had a defensive scheme, a rotating attack, and quite obviously tuned up prior to the tournament. To succeed in pond hockey requires a very different approach than beer league play. By the second half, my team had their skates under them a bit and played a much better style, but it was too late. I remember thinking, "If only we'd been able to get our feet wet playing together prior to the actual event." Enter a team from Algonquin, IL, called the Moose.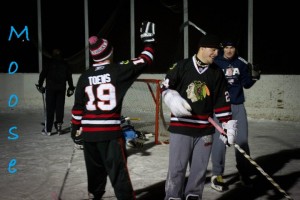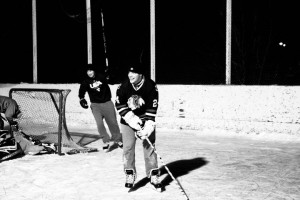 The president of Moose Pond Hockey, RJ Carvis, has created just such a tune up tournament. RJ, who has been skating on the outdoor ponds of his neighborhood with Moose members since childhood, will host a twelve team pond hockey tournament at Watts Ice center in Glencoe, IL, in December of this year. The tournament will be 4-on-4, and will share the same rules as most pond hockey tournaments.
"We decided this year we would take our team and try our hand at some national pond hockey tournaments," Carvis says. He adds: "We always wondered why there is never a tourney in December to prepare for the upcoming season." The exact date for the one-day event is yet to be determined, but interested teams can email for information at moose.hockey@yahoo.com. The cost is $200 per team.
For more information on the Moose and their 2011-2012 tournament schedule, visit http://www.wix.com/moosehockey/team.