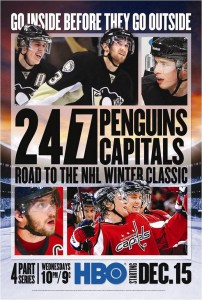 It's hard to believe, but we're only 17 days away from the 2011 Bridgestone NHL Winter Classic, which will see NHL marquee mainstays Sidney Crosby and Alex Ovechkin face off at Pittsburgh's Heinz Field. Oh yeah, their teams, the Penguins and Capitals, will be there too.
The Winter Classic has grown from an idea to a phenomenon in just a few short years, helping make outdoor hockey a reality for leagues across the country. While it's true that the 2001 Cold War and 2003 Heritage Classic got the ball rolling, it wasn't until the first Winter Classic in Buffalo in 2008 that league commissioners realized the economic and marketing potential of outdoor hockey. Now three years later, outdoor games dot the hockey landscape, with many events incorporating youth, high school, and college games during several-day-long outdoor festivals. Â 
The Winter Classic is also unique in that it allows an annual glimpse into what was once a small subculture within the hockey community. I'm talking about the outdoor hockey enthusiasts. Backyard rinkbuilding, once only a hobby of the truly insane, appears to be growing instep with the focus given to it by outlets such as NHL.com, who profiled yours truly and friend of Backyard-Hockey.com Scott Millin last year in advance of the 2010 Winter Classic.
There's also an increased focus on pond hockey, as the media implores players to look back on the days of their youth. Many players, professional or otherwise, can recall entire days of outdoor shinny, where nobody gets tired and everyone goes home with a smile. The focus given to pond hockey by the Winter Classic has allowed the pond hockey community to grow exponentially, with events sprouting up weekly. At last count, nearly 70 pond hockey tournaments are scheduled over the next 12 weeks in North America alone. It's the increased focus on outdoor hockey by mainstream culture (and the sponsors who notice) that makes much of this possible.
That brings us to HBO. If you're a subscriber, then chances are you've seen some of their other award-winning "24/7" series, which include De La Hoya/Mayweather 24/7 and 24/7 Jimmie Johnson:Â  Race to Daytona. Starting tonight at 10pm, HBO is bringing that premise to the ice. With four hour-long episodes planned, 24/7 Penguins/Capitals: Â Road To The NHL Winter Classic will follow the two teams simultaneously as they prepare for their January 1 meeting in front of 65,000 fans. The series will go behind the scenes and chronicle the ups, downs, and in-betweens of the rival franchises, as well as explore the personal stories from within the locker rooms.
The first episode airs tonight, December 15th, at 10pm ET. An immediate replay will show at 11pm. The remaining three episodes will follow on December 22nd, December 29th, and January 5th, all at 10pm. The final episode, which comes four days after the Winter Classic, will follow the teams as they prepare on game day.
The Winter Classic may be a promotional and financial windfall for the NHL and its organizations, but the increased attention it provides to the backyard and pond hockey culture are wonderful byproducts. Tune in to HBO tonight, and then think back to your days skating outdoors. I bet they're remarkably similar to those of the NHL superstars that will be profiled on the series. It's this juxtaposition of NHL players and pee-wees –Â of Sidney Crosby and little Timmy from Quebec — that makes the Winter Classic such a hit.
Here's the series trailer, courtesy of HBO and the NHL. Not a subscriber to HBO? You have 10 hours and counting.