September is not normally a time for pond hockey victories, but Scott Crowder and his team at Ekal Events are having quite the month.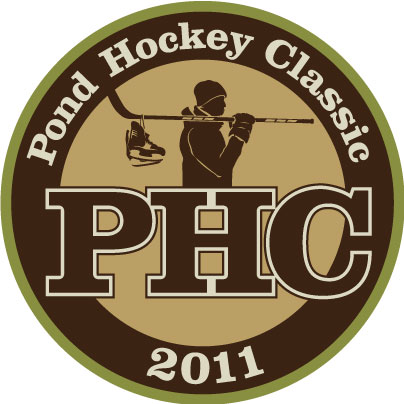 Crowder, the driving force behind the wildly successful New England Pond Hockey Classic and the brand new Lake Champlain Pond Hockey Classic, started off last week by unveiling a new design that will be adapted to form each tournament's logo. Scott explains the new design:
"We wanted to capture the essence of Pond Hockey with a simple and subtle logo that could be easily altered for our different events, the LCPHC and the NEPHC. Anyone who has ever played pond hockey has thrown the stick over their shoulder with the skates on the end and walked down to the rink. This is classic pond hockey and over the course of three months we were able to come up with a finished product. We had numerous versions of this logo, and went through many revisions, but we love the finished product and feel we have properly portrayed the sport of pond hockey with a simple but classic logo.
The logo was created through a collaborative effort between myself, graphic designer Projekt Grafik, and the official apparel provider of the PHC, Earthtec."
As if that wasn't big enough news, Crowder then spent this past Tuesday evening accepting the 2010 Lakes Region Tourism Award for his New England Pond Hockey Classic, which took place back in February. According to the Lakes Region Association website, the Award is given annually to an individual or company "that has made a difference during the past year to bring visitors into the Lakes Region and Central New Hampshire." The Pond Hockey Classic served to bring hockey people together in a new and unique way and also helped visitors from around the region experience an area of the state that often sits dormant during the cold winter months — a concept true to the spirit of the Award and one that made Crowder a slam-dunk for this year's presentation.
Pond hockey events may be a relatively new phenomenon to the area, but the NEPHC shows that not only can they be big wins for hockey-minded people, but that they can boost local economies, bring tourists to an area they might not otherwise visit, and foster a sense of community ownership. On behalf of everyone at Backyard-Hockey.com and all the players and fans who soaked in the NEPHC, congratulations to Scott and the Ekal team!
---
For more information on the tournaments, visit these pages:
Website
,
Facebook
,
Twitter