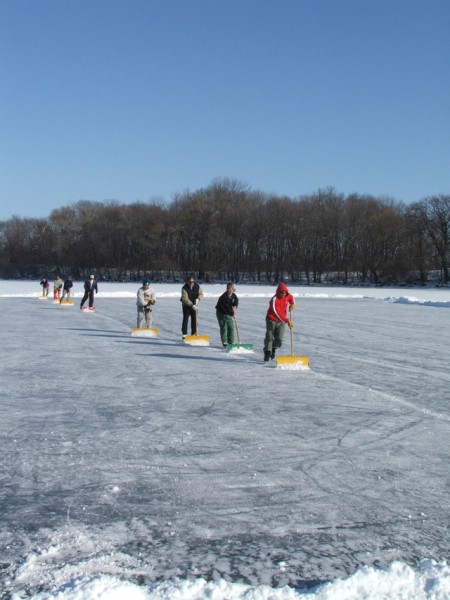 Just a bit of Friday morning administrivia. New content coming Monday!
Chatter Cup
This past weekend was the 2010 Chatter Cup tournament, and if you're in my social circle, you're probably sick of me mentioning it. But my drive and motivation for raising money for Easter Seals and its autism program is a direct result of the passion that Mike, Craig, and the rest of the event organizers have for the event. And what an event it was. On the ice, the three-peat was not to be, as our squad was shutout by an insanely hot goaltender and a team of younger legs in the finals. But MUCH more importantly, the event raised an incredible $40,000, besting last year's total by more than ten grand. Our team raised over $2,000 in one month, with a percentage of that coming directly from this website. I thank you all from the bottom of my heart.
I had promised a Backyard-Hockey.com t-shirt to one person who donated via this site, but because of the outpouring of donations and the fact that we more than doubled our team goal, each person who donated from this site will be getting a shirt. I will be in touch with each of you in the next week or so.
Backyard-Hockey.com Apparel Store
Did somebody say t-shirts? How about t-shirts, hoodies, long-sleeve tees, and more? That's the plan for the Backyard-Hockey.com apparel store, which is in the process of being built. It has a target launch date of October 1, 2010. The store will be broken out into two parts: B-H.com logo merchandise, and a kids' hockey slogan line.
***UPDATE – OUR STORE IS NOW OPEN***
The logo apparel will be redesigned each year, and will be based on the 'hockey roots' logo. Here's a sneak peak of the 2010 version.
And if you're like me (a hockey-nuts father of a toddler), it can be frustrating when looking for hockey clothing for your little ones. I'm hoping to fill that void with an original, limited-edition line of clothing for infants and toddlers. Stay tuned for more details.
Twitter
You may have seen this update last week on our Facebook page, but Backyard-Hockey.com is now on Twitter at @BackyardHockey. The goal with Twitter is not simply to broadcast new blog posts, but rather to more easily connect with readers and to facilitate conversation with other bloggers, industry experts, merchants, and hockey players. Twitter has a unique ability to make accessible people and entities that were previously inaccessible. What does that mean for you? As our 'follower-ship' grows, so too will the ability for us to pass on news, events, products, and site links quicker and more often than writing a blog post. Another reason to join? I'm working on some promotions, giveaways, and hockey merchant coupons and deals (see below) that will be solely for our Twitter followers. Join now so you don't miss out!
Affiliates
While it won't be a full site redesign, you will begin to see some changes around here in the next few weeks. In an attempt to help grow the site, support its readers, and create valuable hockey relationships, I'm partnering Backyard Hockey up with several online merchants, the first two being HockeyShot.com and Total Hockey.
HockeyShot.com is the "largest online specialty retailer of hockey training equipment in North America," and their site contains a dizzying array of on- and off-ice training aids, videos, and equipment designed to make you a better hockey player. Check out their site – I did, and then I started my Christmas list. They have some seriously cool and innovative products, and I'm excited to be able to share them with you.
Total Hockey is known in the Chicago and St. Louis area as THE hockey store, but their online presence is no slouch either. Containing the newest and most popular ice hockey, inline hockey, and goalie equipment, TotalHockey.com is a great source for all your gear needs. If you need skates, sticks, helmets, or anything else, I urge you to check out TotalHockey.com first.
You'll start seeing links to these sites around this page soon. Backyard-Hockey.com will never become one of those sites that barrages you with blinking ads, and I have no intention of quitting my 'real' job to turn this into a money-making venture. But my hope is that if you've read the content on this site and found it useful, funny, introspective,  or simply not awful, and you're looking to make a hockey-based purchase, you'll consider purchasing through one of the links on this site. By doing so, you're supporting the website and allowing us to pursue new and creative ways to grow the Backyard Hockey community. My list of ideas of how to accomplish that gets longer by the day. What makes many of these ideas possible is the monetization of the more popular areas of this site.
Quick request: if you do patronize these merchants, let me know how it went! Shipping time, prices, quality, customer service interaction…I want to know about it all. I want Backyard-Hockey.com to be the best, and I only want to partner with the best. To do that, I need to hear about your experiences.
So that's all from behind the keyboard. I can't thank you enough for keeping this site in your regular internet wheelhouse, and I look forward to growing with and for you in the next few months!
---
Photo by
newlow
.