Backyard-Hockey Profiles is a series that looks to shed light on the people who embody the true spirit of the game and the pure joy that comes from sharing it with others.  If you would like to nominate someone to be profiled, please contact us.
If you're reading this site, chances are you dig hockey in one way or another.  Maybe you have a backyard rink, maybe you play in a men's rec league, or maybe you just enjoy driving your kids around to games on the weekends.  Regardless of your exact passion, it's safe to say that if you're reading this, you like hockey.  Do you know who else likes hockey?  Ron Landrus.  In fact, Ron Landrus likes hockey 8,224 times more than you do.  Why 8,224?  Because that's the number of miles Ron, his son, and their teammates have driven since 2006 to play pond hockey.  You read that right.  Ron has driven what amounts to three cross-country trips just to lace 'em up, hop on a pond, and fire biscuits at tiny wooden goals.  And you thought you loved hockey?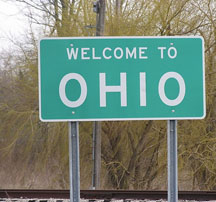 But hold on a second.  Before we politely request that the authorities in Holland, OH, give Mr. Landrus a psychiatric examination for his own safety, let's take a look at where his passion from the game came from.  Home of Bowling Green State University and its Division I Falcon hockey team, Bowling Green, OH, can very much be described as a hockey town.  BG High's ice hockey team has won six Ohio High School Athletic Association State Championships since 1980, and the BGSU Falcons won the 1984 NCAA Frozen Four National Championship under the guidance of current Boston College coach Jerry York.  Having grown up in BG, surrounded by and part of the hometown hockey hoopla, Landrus' love for the game blossomed.
But lots of us live in hockey hotbeds.  Heck, hockey in New Hampshire is as strong as any state not named Minnesota, and I can't say I've travelled more than an hour or two to play hockey since my days of youth travel hockey ended 12 years ago.  So what was it that made Ron Landrus decide that he wanted to spend nearly two entire days driving to and from New Brunswick in the dead of winter?  The assist goes to Sports Illustrated.
Browsing a Daytona 500-dominated issue of the magazine in February 2005, Landrus happened upon a small blurb about the 2005 World Pond Hockey Championships in Plaster Rock, NB.  The WPHC, which began in 2002 with 40 teams and iced three times as many in 2010, is one of the oldest pond hockey festivals in North America.  Self-described as a mecca for North American hockey enthusiasts, the WPHC is described in the SI article as "just good old-time hockey, gentleman's rules, like when we were kids."  Landrus, at this point a 41-year-old husband and father, was captivated.  His 19-year-old hockey-playing son sitting next to him, he said, "We have to do this."
But the popularity of the tournament had grown since its first go-round in 2002, and the organizers had implemented a lottery to decide which teams would be invited to the 2006 iteration of the event.  Shortly after entering his Toledo Goaldiggers into the running for a tournament invite, Landrus was notified that his team was not selected.  Disappointed but undeterred, Landrus kept abreast of the tournament happenings via the event's website and message board.  That's where he read a post by Reed Claiborne, who was looking for a pair of players to fill out his squad.
In Landrus, Claiborne found someone as passionate about hockey and its outdoor beginnings as the sport's founding fathers themselves.  So in February 2006, Landrus, his son, and his daughter ("the eyes and ears of the wife unit," jokes Landrus) left Ohio for New Brunswick to skate with Clairborne and the rest of the Knoxville (yes, TN) Knights.  But in that first year, even Landrus himself had doubts.  "10 hours into the 17-hour drive, I stopped for gas.  It was 6am, I had been driving all night, and I hopped out of the truck to the cold Montreal wind.  I wondered if I was making a mistake."  That doubt quickly passed, and after a much-needed stop for petit dejeuner, the trio pressed on towards Plaster Rock.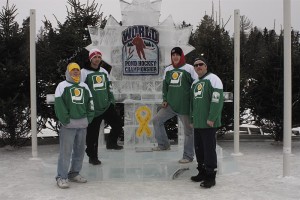 Their first experience at the tournament validated their decision to attend.  Says the elder Landrus: "We even played a team from Swizerland that brought us Swiss chocolate bars before the game.  Then they whooped us."  Somewhere along the route home, exhausted but exalted, Landrus and his son vowed to return.  And after missing the application deadline for the 2007 event, Landrus' team was selected for inclusion in the 2008 tournament.  The Toledo Goaldiggers, consisting of Landrus, his son, and his son's friends, were in.  With lady luck on their side, they were invited back in 2009 and again in 2010.  In all, they've driven the 1,028-mile route eight times, though the memories they've made in their four trips are countless.
"Two years ago we left in the middle of a snow storm.  The drive from my house to Toronto normally takes five hours, but that year it took 10.  23 hours into the normally-17-hour trip, we arrived in Plaster Rock and were on the ice within a half hour for our first game."
Mother Nature hasn't been the only impedence in their trek to New Brunswick over the years.
"I get interesting questions from the border guards when we cross into Canada.  One time I told the guard that we were going to a pond hockey tournament, and he questioned our skating ability, seeing as we were from the US.  One guard asked us if we knew how far away New Brunswick was, and another asked us how we were going to get there.  We were sitting in our SUV at the time."
The memories from the tournaments themselves are something the Landrus clan will cherish forever.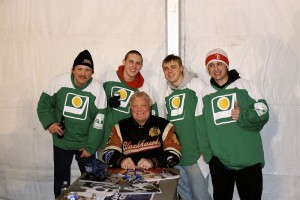 "One team we played in '08 owned a restaurant in Fredericton, NB, and they sponsored a frequent patron of theirs, Bobby Hull.  We got our jersey signed and took pictures with him, and I talked to him about Brett.  We were invited back to the house they were renting to have dinner, so we got to have steaks with the Golden Jet.  He even made me a plate of nachos.  It was an amazing experience, being in an area of Canada that barely shows up on a map, hanging out with new hockey friends and Bobby Hull."
While chowing down on nachos crafted by the hands of one of the greatest left wingers of all time probably ranks high on the "Is This Really Happening?" scale, Landrus credits the folks of Plaster Rock with making the weekends truly unforgettable.
"The people are what make it a fun weekend," he says.  "The locals and the players are all there for the same reasons: to have a good time playing and watching hockey.  The tournament is run very efficiently, right down to the entertaining junior-high teacher who mans the PA system all weekend."
His experience at the tournament has also opened his eyes to the beauty of Canada, even in summer.
"We took the whole family back in the summer and and played around in the small towns up and down the coast of the Bay of Fundy.  We are also going to take a cruise to Halifax (Nova Scotia) in August."
(Did you hear that, cold-weather Chambers of Commerce?)
As for his future with the event?  Provided they'll take him, Landrus says he'll go back forever.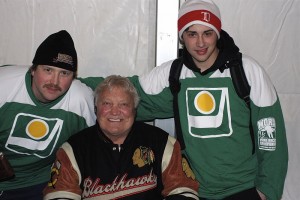 "I will keep going back as long as they'll have us.  Maybe it's my midlife crisis, or the adventure of it, but it's different than playing indoors.  The fresh air, the snow, the feeling of going from 46-years-old to 12-years-old while putting on the skates – I don't know."
In the end, though, it's that old inter-generational bridge that the game of hockey provides that makes this annual pilgrimage worth every minute, penny, and gray hair.  As any parent knows, sharing a passion with your children is special.  When that passion is hockey, and when you have the ability to skate alongside them as they learn to love the game of hockey like you do - it's magical.  Even Bobby Hull knows how that feels.
"I do know that because I share this with my son, it is special to me," Landrus says.  "Playing hockey with him has been very important to me.  If I am able to count on two hands the number of times that we can attend this event, I will consider myself very lucky."
---
Thank you to Ron Landrus and Reed Claiborne for their assistance with this story.
If you'd like to check out the World Pond Hockey Championships, please visit their website. For a comprehensive list of pond hockey tournaments all over North America, click here.
For more Backyard-Hockey Profiles, click here.
Know someone who would make for an interesting Backyard-Hockey Profile? Email us.